Our aim is to provide an end to end service to get the right gun for your needs.
Recent custom builds
.204 Vermin Rifle
A local pest controller came to see us as he wanted a gun that covered all bases. He wanted us to use his existing Ruger platform in .204 but the standard stock had very little adjustment for length of pull and cheek pad.
Our aim was to build a gun that would be at home on the range or out on long-range varmint. The MDT chassis offers many fitting options allowing the shooter to get comfortable for each shot. We also added an MDT bipod after looking at other options such as Spartan.
Noise reduction was important for our customer and so was forward weight, as a result we opted for the DPT sound moderator. Being modular it is easy to clean and very light.
Some may say the scope is an over kill but we are both really pleased with the performance of the Hawke Frontier. Its 34mm tube in FFP gives 5-30 times magnification. This was a big step up from the owner's last optic and a real pleasure to use.
For new rifles, we are more than happy to break them in on our range. As this rifle already had a used action, we just zeroed the scope for our customer.
.243 Custom Stalking Rifle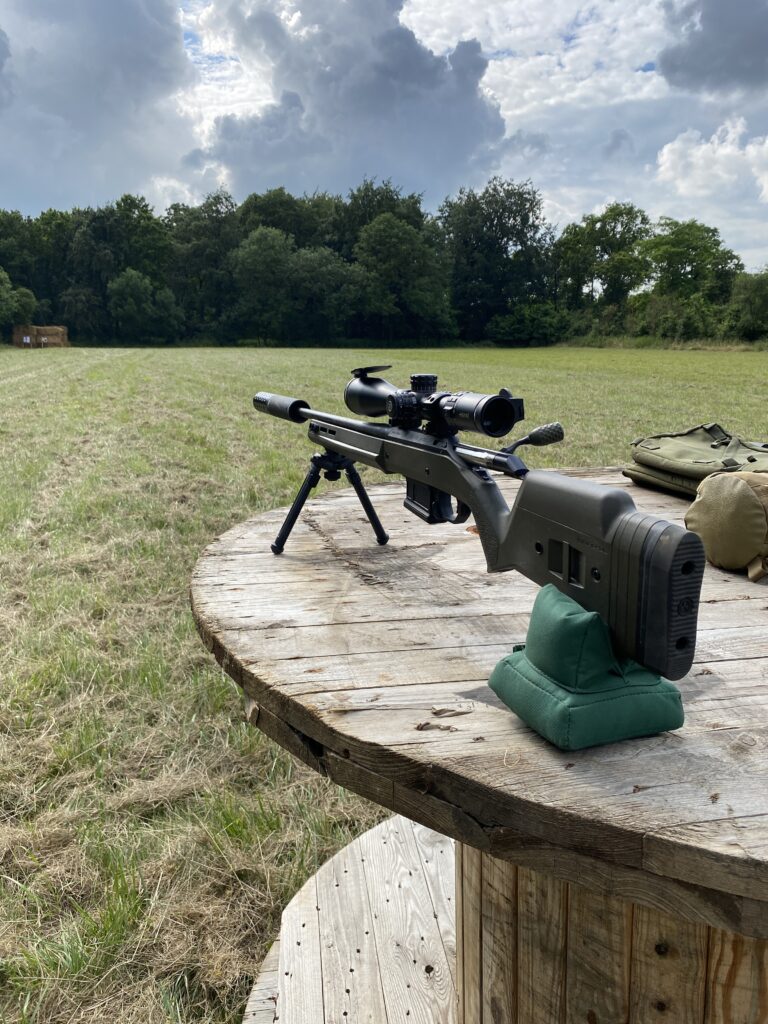 This customer wanted a new stalking setup on an existing donor action. They wanted something that would be comfortable in the hand and steady off sticks. As you can see in the image the fore-end of this gun is wide and flat. This is a really cost effective stock as well as being AR magazine compatible. This also means the client could get larger capacity magazines and will not be restricted to proprietary ones.  The stock has no sharp edges on it as it is made from polymer, therefore it will not get cold to the touch unlike a stock made from metal.  This stock also has a fully adjustable length of pull, comb height and enhanced ergonomics to give the customer comfortable shooting positions.
We opted for a Magpul bipod which performs very well, it is mounted forward so not to disturb the gun's position shooting from sticks. You will also notice there are no springs on the bipod, so there will not be any loud twangs while out stalking.
Please contact us for more information on our custom builds or to discuss your requirements.