Cryochaps ice boots provide excellent cooling and compression for use after exercise or injury. Available as a knee-to-fetlock ice boot, or a versatile ice wrap used to ice knees, hocks and fetlocks.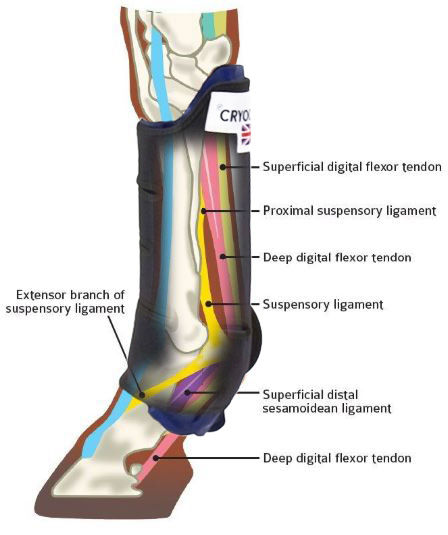 Fantastic Coverage – These ice boots cover all the major tendons and ligaments in the lower leg
Malleable – Easily mould to the shape of the horse's legs
Incredible Contact – Our cooling boots and wraps provide brilliant cold transfer
Even Compression – Targets swelling AND prevents slippage
Slimline fit – Does not restrict movement, so horses are happier and more comfortable
Fit with the Absolute Wrap to cover even more areas.
Cryochaps are innovative ice boots for horses, designed to ice the legs after exercise or injury in order to aid recovery. By capturing the power of ice bath therapy in a simple and effective leg wrap, the ice boots provide the ideal post-workout cool-down. Highly portable, Cryochaps are great for at the yard, competitions and or clinics.
Equine injuries to the lower limbs, both front and hind, are a common occurrence in this day and age. Horses are designed to be super quick and supple, balancing 500kg of bone and muscle on four legs. Humans have selectively bred the horse to become more agile, more expressive, more powerful, faster and stronger. However, their limbs do not always cope, and as any owner will know injuries are commonplace. Ligament and tendon injuries can now be diagnosed much more often due to increased veterinary knowledge and better diagnostic technology. Furthermore, diagnosis will then lead to the time consuming rehabilitation that accompanies it.
By harnessing the preventative and healing benefits of ice bath therapy, Cryochaps have created an equine ice boot that could be effective at helping reduce the chances of injury as well as encouraging healing.